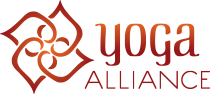 Two years yoga course recognized by Yoga Alliance RYT200.
Associazione Yogananda is registered with Yoga Alliance www.yogaalliance.org
Upcoming date for this course: October
13th 2019
Courses are recognized by Yoga Alliance RYT200.
The course is divided into the following modules:
Module 1 technique of asana, pranayama, mudra, bandha
Module 2 how to teach
Module 3 yoga philosophy
Module 4 ethics and yogic lifestyle
Module 5 teaching practice
Module 6 kriya, meditation and mantras
Module 7 chakras
Module 8 Yoga Nidra
Module 9 technique of deep relaxation
Module 10 Ashtanga Yoga
Module 11 Sanskrit
Module 12 Nada Yoga
Requirements for access:
Strong interest, an open mind, commitment and dedication;
Minimum of six months of regular practice.
How to prepare for the course:
The regular practice of asanas;
Read the following topics: yoga paths, the eight steps by Patanjali;
download the following books:
To receive the program and registration details contact us
Certification: upon completion of the course you will receive the Associazione Yogananda's certificate and it is valid to register with Yoga Alliance www.yogaalliance.org