Continuing Education for the renewal of Yoga Alliance every three years.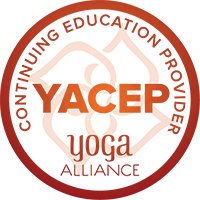 Teachers who complete the training course and register with RYT200 and RYT 500 Yoga Alliance (RYT ®), must complete the Continuing Education every three years to maintain their registration with the Yoga Alliance so to expand their knowledge of yoga and ability to teach.
Continuing Education includes:
at least 45 hours of lessons acquired from your previous teaching practice;
at least 30 hours of training acquired by further training in yoga - both in and outside the classroom and lessons are eligible as follows:

At least 10 contact hours ( contact hours are the hours during which you must attend every three years at Associazione Yogananda or at another yoga center where they can give Continuing Educaion courses ). Attending a course of Continuing Education, through workshops, courses and group discussions or study in one of five categories of education.
At least 20 hours of non-Contact: For example, reading a book about yoga, watch a video that deepens your knowledge of yoga,the study of an online course or correspondence related to yoga,participation in the drafting of articles newspapers, magazines,that produce videos of yoga, to create materials for yoga classes for distribution to students.
For more information on Continuing Education and Continuing Education courses at the Association Yogananda, please contact us by e-mail.